caradactyl's Tattooist Details
Artist's name: Cara Cable
Shop name: Black Cat Tattoos
406 S.Craig Street
Floor 2
Pittsburgh, Pennsylvania, United States 15213
Phone: 412-621-1679
Started tattooing in 2009
Tue May 05, 2009 7:17 am
by: zachadoo88
Hello there! Just giving out kisses for the contest, it would be awesome if I got one in return, thanks! You have some really cool tattoos btw!
Fri Nov 07, 2008 8:05 pm
by: cynroux
Your painting has a nice place on my wall and makes me happy. :)
Mon Oct 01, 2007 4:47 am
by: AuntColeus
Hello there lovely lady,

I do hope that you are keeping the dance floors of Pittsburgh happy. I am cutting it up over here in Seoul. It is truly a wild city, and I couldn't be happier (or luckier) with my decision to come live and work here. Send my love to Jason and Eye Candy.

Be well,

Ryan
caradactyl's Popularity

Popularity: 9.3 (2 votes, 10 admirers)
You must be logged in to vote.
Sunday, December 27, 2009 - 09:48 AM
December 26, 2009
It was a very tattooey christmas this year! i got jason the shige book, stoney knows how, and tattoos in the floating world by horitaka. He got me the new Angelique Houtkamp book Tattoo Mystique. We were working on this tattoo yesterday. Jason did a set of black and red flash last year and I've had my eye on this lantern since he did it. We wanted to fit it into a weird space I had so I started to look at some victorian images we had and loved the hand holding flowers design. Here's what he drew for me: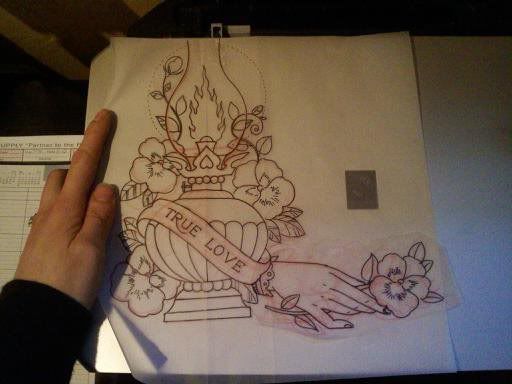 We worked on it for about an hour and a half. I love it so far!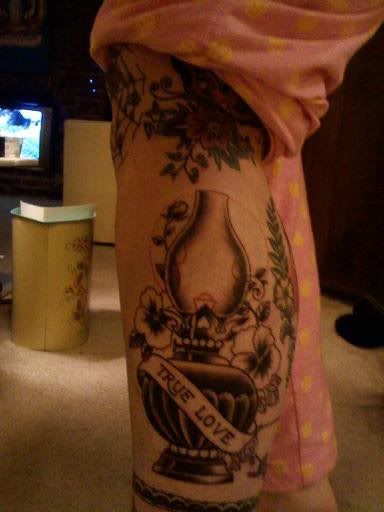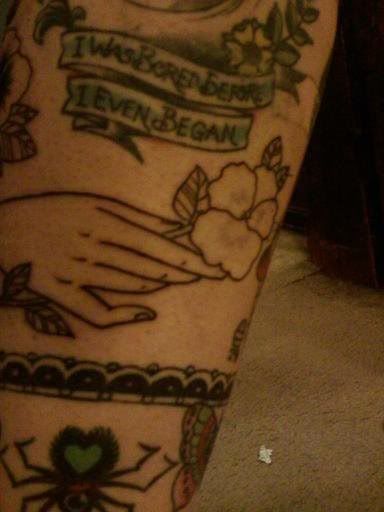 I can't wait to finish! Now that the holidays are over I'm really looking forward to February not only because my birthday is on the 19th but because we're going to stay with our friends at British Ink for a few days and then Jason is working the Baltimore convention.

Here's to 2010!
caradactyl's Favourite Pages
caradactyl doesn't have any favorite tattoo designs yet.
No recent activity by any of caradactyl's favourites.